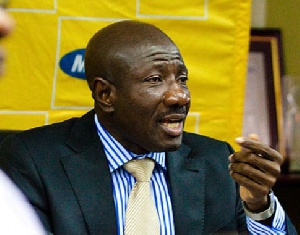 The Sportswriters Association of Ghana (SWAG) has sent a message of congratulations to Mr Ebenezer Twum Asante, Chief Executive Officer of MTN Ghana for being voted as the CEO of the Year of the MTN Group.
In a statement signed by SWAG President Kwabena Yeboah, the association noted with pride the honour conferred on Mr Asante last week during a leadership conference in South Africa involving the country heads from 22 different countries making up the MTN Group.

It said the accolade bestowed on Mr Asante as the Best CEO of the MTN Group was both a confirmation of the positive strides made by MTN Ghana under his leadership and an endorsement of the direction in which he was leading the company.

"SWAG wishes to congratulate you for being voted Best CEO of the MTN Group. For us, it was very significant that the honour was conferred on you by your peers within the MTN Group.
"It is even more encouraging that as the first Ghanaian to be appointed CEO of MTN Ghana, you have demonstrated competence and strong leadership qualities which were recognised by your peers," the statement said.

According to the SWAG president, it is very encouraging that the relationship between the association and MTN Ghana has been further deepened since Mr Asante took office last year by ensuring a continuation of the partnership between the two bodies with MTN as the headline sponsor of the prestigious SWAG MTN Awards.

"SWAG is proud to be associated with you and it is our hope that this award will inspire you to lead MTN Ghana to greater heights," the statement concluded.