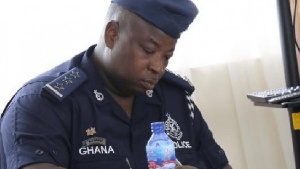 A new word in the vocabulary of Ghanaians, 'Azuguism' and the Azugu Mosquito preventive challenge is what has dominated social media since Monday, February 18, 2019, following the shambolic and contradictory account of the Commander of the National Security SWAT team, Deputy Superintendent of Police (DSP) Samuel Kojo Azugu, MyNewsGh.com reports
In an attempt to justify why his boys wore face masks, DSP Azugu in one account disclosed to the Commission he did not know why his boys wore the face masks on that day of the Ayawaso West Wuogon by-election and in another said it was meant to ward off mosquitoes.

He told the Justice Emile Short led Commission of Inquiry he at no point sanctioned the wearing of the face masks which became a topical issue in the heat of the by-elections but had this to tell the commission as one of the major reasons that particular gear is worn.

"Depending on the nature of the assignment, sometimes we go and lay ambush somewhere and we become prey to mosquitoes, so we have a particular gear that we wear which covers the neck and face so that we do not get mosquito bites", he said.

Pressed further to explain, he fumbled, was sweating profusely under the air condition and continued "So depending on the nature of the operation and the location that they are, they don't wear but on that particular day, I am yet to know why they put on masks," he added.


Well, his responses to questions from the commissioners have earned him enormous trolls on social media with a challenge to his name which many believe is an antidote to mosquitoes in the country and should be encouraged.

MyNewsGh.com brings to its readers some of the images of Azugu Mosquito preventive challenge and others.