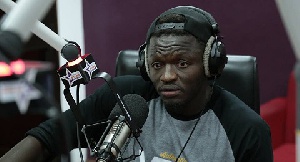 Ghana international Sulley Ali Muntari has labelled the communication director of the Ghana Football Association (GFA), Ibrahim Saanie Daara, a liar.
On May 5, the GFA claimed it had contacted Muntari who had been racially abused by fans of Cagliari during a Serie A match.

But in an interesting turn of events, the former AC Milan midfielder on Starr FM denied the local football governing body had done so, though he admitted speaking with FA president Kwesi Nyantakyi.

"Saani Daara shouldn't lie to people, he shouldn't lie to Ghanaians, I speak to Nyantakyi, I have no problem with him. …So where from you Sannie coming to defend?" he quizzed.

"If something happens and they have an interest he calls or they write something quickly to defend themselves... You don't know anything about football… There are many people who know a lot of things about football. …Sannie knows nothing. …That is why we are going back."
The former AC Milan player further disclosed that he missed playing for the national team.

"I miss playing for the Black Stars. We made the Black Stars what it is today. And I love representing my nation. I always enjoyed playing for the national team and as you know, it is an honour playing for your national team, so I really miss playing for the Black Stars," the former Inter Milan midfielder disclosed.

Mutari, 32, is currently in search of a new club after his six-month deal with Pescara expired.

He was expelled from the national team for slapping a management member of the Black Stars management committee at the 2014 Brazil World Cup but has since apologised for his action.