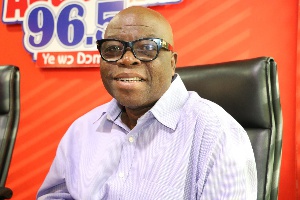 Aspiring Ashanti Regional Chairman for the opposition National Democratic Congress (NDC) Alhaji Mohammed Sani has expressed disappointment in the Acting chairman of the New Patriotic Party (NPP) Freddie Blay for supporting the comments made by Ghana's High Commissioner to South Africa Ayisi Boateng.
He said he least expected Mr Blay to support Mr Ayisi Boateng's divisive comments.

Alhaji Sani suggested to NPP leadership to sack the Acting Chairman of the party saying he doesn't deserve to hold such a reputable position.

He indicated that the chairmanship position is not for 'loose talkers' like Freddie Blay saying it was needless on the part of Mr Blay to hold brief for Mr Ayisi Boateng.

Mr Ayisi Boateng interacting with the student group of NPP-TESCON said NPP supporters are his topmost priority and that he will place them ahead of any other Ghanaian.

Mr Blay openly supported the High Commissioner's comment arguing that NPP supporters should be taking care of before other Ghanaians.

But speaking with Kwame Adinkrah on Abusua Nkommo, Alhaji Sani said the High Commissioner caused political earthquake with his comments saying he would have been sacked within 24-hours if it were to be parts of Europe.
He said Ghanaians would have turned a blind eye if Freddie Blay were to be one of the young NPP politicians.

'…My worry is when Ayisi Boateng refused to accept his mistake. Civil Society Organisations (CSOs) and some NPP members have condemned his comments whilst others have backed him…. But one person whose comments shocked me was Acting National Chairman of NPP Freddie Blay who supported Ayisi Boateng. How can a person of your caliber be talking like this. What kind of a leader is this?.

'I'm highly disappointed in Freddie Blay, when the President Akufo-Addo, Minister of Foreign Affairs Shirley Ayorkor Botchwey were condemning him, but Freddie Blay was supporting him, how. How can a leader of a party behave this way,' he asked.

Ghanaians wouldn't have criticised Ayisi Boateng if he had apologised over his comments when his attention was drawn to it.

The former President John Dramani Mahama has stated that the High Commissioner would have been sacked immediately if he were to be in power.