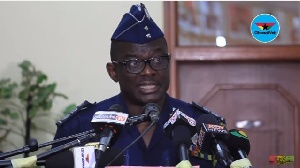 A Member of the Progressive People's Party (PPP), Charles Owusu is urging President Nana Akufo-Addo to immediately relieve Inspector General of Police David Asante-Apeatu from his post.
According to him, the continuous stay in office of the IGP will not augur well for government and the nation as a whole.

The Inspector General of Police is said to have told COP Bright Oduro, the ongoing Head of the Criminal Investigations Department who was asked to proceed on leave ahead of his retirement in January 2018 that the decision was not coming from him, but from Cabinet.

But Charles Owusu argues that IGP acted in an unprofessional manner and thus needs to be sacked.

Speaking on Oman FM's political analysis programme "Boiling Point" Charles Owusu explained that IGP has the powers to transfer an officer and also do same by asking an officer to proceed on leave, stressing that what IGP demonstrated clearly showed that he is not capable to handle the police service.
"For him (IGP) to tell COP Bright Oduro that it was Cabinet that asked him to proceed on leave to me is in bad taste. He doesn't deserve to be IGP," he said.

"With this I will not be surprised that the IGP will even come public with conversations between the President and himself," he added.

Charles Owusu who also criticised COP Bright Oduro for speaking to the media about his leave asked the President to dismiss him outrightly from the police service.

"President should sack Bright Oduro so that he loses his entitlement …As a boss of the Police CID you have sworn an oaths to keep secret but today you're all over the media and talking and revealing vital information," he suggested.