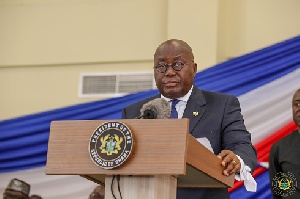 Deputy General Secretary of the opposition National Democratic Congress (NDC) says he feels vindicated after calling on Ghanaians to embrace themselves for more shocking revelations and rot at the presidency some few months ago.
The deputy scribe of the NDC had described the Flagstaff House as a safe haven for corruption and thievery. The fierce critic of President Akufo-Addo had said, the Flagstaff House has turned into an avenue where corruption is endorsed and rewarded.

Speaking on the leaked tape between the Deputy CID boss and musician Kwame A-Plus, on the investigations conducted into the alleged corruption and thievery leveled against the two Deputy Chiefs of Staff, he said, Koku Anyidoho has been vindicated.

The musician has dared the CID boss to arrest him if she believes he [A-Plus] doctored their conversation on the allegation and thievery saga. Commenting on the issue, Koku Anyidoho said where we are now; the image of the police is in clear disrepute.

He called for an independent enquiry into the saga of an alleged cover up in the investigation conducted because ''it is an indictment to the police service but it is not all the police officers who are under indictment rather a particular police officer has been caught on tape and if you listen to Kwame A-Plus, and the force with which is he is daring the lady; the president if he really wants to prove to us that he is committed to the fight against corruption, then Asenso and Jinapor must step aside. That police lady must also step aside.
There must be an independent enquiry into the matter.'' Koku Anyidoho stressed that we cannot continue to bastardize any state institution like it was done under former President Kufour.

He opined that the former president damaged the image of the [Police Service with cocaine turning into 'Kokonte' and today Nana Akufo-Addo is President-is he going to behave like former President Kufour and tarnish the image of the Ghana Police?

According to him, what has happened is an indictment on the president's so-called attempt to fight corruption. This gives us a lot of course to doubt the president's integrity when it comes to the fight against corruption and if he really wants to convince us that he is committed to fight corruption, then this matter, Asenso and Jinapor must step aside for the mean time. The police must deal with the Deputy CID boss.''