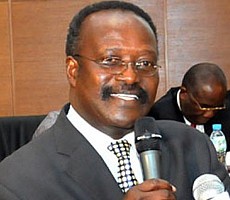 Tue, 24 Jun 2014 Source: The Publisher
The National Democratic Party is demanding the immediate removal of the Minster of Interior, Kwesi Ahwoi, accusing him of being committed more to his personal happiness rather than addressing the insecurity in the Nanumba District of the Northern Region.
The NDP said the insecurity in the Nanumba North District accounted for the murder of the paramount chief of the Nanumba traditional area of the Northern Region, Naa Abdulai Andani Dasana, and four others last week.

The Chief was said to be observing his evening prayers in his yard when the unknown assailants attacked and shot him dead.

Five others were also reported to have sustained various degrees of gunshot wounds and were rushed to the Tamale Teaching Hospital for treatment. The minister of Interior, Mr Kwesi Ahwoi, is among several ministers and Government Appointees having fun at the Brazil FIFA 2014 World Cup. The Interior Minister is in charge of internal security of the country and is cooling off in Brazil whiles violent attacks is on the rise in the country.
Speaking to Peacefm, the Deputy Communications Director of the NDP, Ernest Owusu Bempah, called on President Mahama to dismiss Mr. Kwesi Ahwoi for negligence of duty. "What is the Interior minister doing in Brazil," he quizzed.

"It is surprising to see that government officials who should have worked tirelessly to deal with rising insecurity and fix the economy, rather decided to go and have fun in another country," observed the NDP man.

Owusu Bempah also expressed disappointment in President Mahama and his Chief of Staff for allowing ministers and appointees to travel to Brazil just to watch the World Cup when the socio-economic situation in the country is deteriorating... "the state of Ghana is in crisis, the president and his government don't care otherwise why would he approve the traveling request to Brazil just to watch football," he lamented.
Source: The Publisher