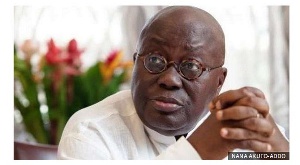 The Deputy General Secretary for Alliance For Accountable Governance (AFAG), Wesley Owusu has urged President Nana Akufo-Addo not to relent on sacking his ministers who are not working for the progress of the country.
According to him, there are many sector ministers whose performance in the past year is nothing good to write home about.

Declining to mention names, Wesley said those appointees' abysmal performance is obvious that they cannot perform in other sectors hence need to be shown the exit.

Wesley, who was speaking on Dwaboase on Accra-based Power 97.9FM in reaction to the president's review of his minister's performance, noted that it was time the president showed to Ghanaians that he has the men to work for the country by sacking nonconforming ministers and replace them with competent unassigned ones.

He applauded the president for assessing his ministers after a year in office. Though many of them, to him, are competent, he said Mr Akufo-Addo "should start to put pen on paper and tell the [nonperforming ministers] that he's not interested in a lukewarm attitude and let them go."

"Before he was elected into office, the president told Ghanaians that he had the men to work for us. Now we have some of the ministers who are doing very well. Others need to improve on their work but we all know those who are not working and such people need to be sacked. . . A lot of them are not doing well and this is a fact. If he (President) says he has the men then this is the time to show it to us. He should not re-assign them to other sectors as we have seen in the past, " he told Kaakyire Kwesi Appea-Apraku, the host of the programme.
"Governance is not a child play," he said while he cautioned the poorly performing ministers to warm up and deliver in accordance with the vision of the Akufo-Addo administration.

"It is not a try your luck business we are doing here in Ghana. It's not a child's play. It's governance. Don't take the job because you've been appointed and enjoy the benefits associated with the appointment," he added while advising appointees to be up and doing.

Duplicated Ministries

Wesley Owusu's assessment of the Akufo-Addo government after a year was good but he detested the existence of some ministries which to him was a duplication of other ministries.

The Ministry for Evaluation headed by Tafo Pankoronu MP, Anthony Akoto Osei was one. He argued that if some institutions were strengthened, they could evaluate the activities of the ministers rather than wasting resources to create an entire ministry to appraise appointees.
"What are they monitoring?" he quizzed.

"The Ministry For Business Development should have been created as an office under the Ministry of Trade and Industry to do whatever reason it was created for, and not a whole ministry," Wesley opined.

To him, the aforementioned ministries and some others need to be scrapped to show that the government is a serious one.

He further urged the president to give clear indicators for which his ministers and other appointees will be measured to reduce mediocrity.