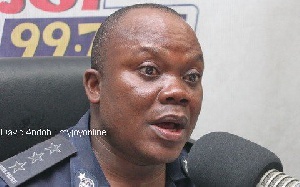 The Police Service has dismissed assertions that the 41 recruits who were sacked for forging documents to be accepted into the force present a security risk to the country, having received some training by the service.
Security expert Nana Owusu Sekyere, speaking to Class News, had shared concerns over the development, adding that the country's resources were being wasted due to ineffective recruitment processes by the Police Service.

But speaking to Class News, Director of Public Affairs at the Police Service, Superintendent Cephas Arthur, said the skills acquired would not pose any danger to security.

"Those armed robbers that we have on our streets, have they had police training before they wield weapons and terrorise all of us?" he quizzed.

"Sometimes we tend to overgeneralise the concern and the alarm. We appreciate the fact that there is a genuine concern that you don't give training to somebody and eventually sack him, but what people are losing sight of is the fact that these police officers are not those who have even started musketry or weapon handling or weapon dismantling.
It is the last thing taught in their training period… So these people have not learnt about musketry, but of course after the musketry if someone is found to be a bad element we'll still expel him. But people are talking as if the moment they expel them the only option they have left to them is to resort to the use of the weapon. Of course you might get one or two elements that might undertake that adventure, but a lot more people will channel their energies to legitimate businesses to make a living."

Mr Arthur also refuted suggestions that the country's resources were being wasted in training recruits who are eventually sacked after being found to have forged their applications.

"It is not a waste of resources. I don't believe it's a waste of resources. You can start it and use all the time you have at your disposal to do their background check.

As you are doing that you are still using resources. You allow such a person to continue to be in the system and he comes out and becomes a problem to society, so we are continuously perfecting our recruitment process and we are open to all contributions," he noted.