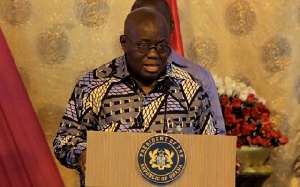 President Akufo Addo has just been ordered to sacrifice his two-month's salary if he wishes for long life on earth.
The warning, which comes from the head pastor of True Faith Church in the Western region, Sampson Koomson is calling for the salary to go for the upkeep of widows and orphans.

Nana Addo has been hit by various prophecies ever since he came to office, the most worrying which came from one pastor who claimed to have predicted the president's imminent death.
Prophecies arguably played a major political role in the run up to the 2016 general elections as most pastors believed to be skewed in the direction of the New Patriotic Party (NPP) made shocking predictions over the outcome of the knife-edged polls.