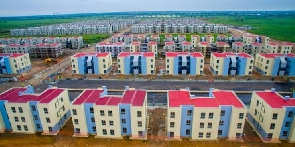 The Deputy Attorney-General, Alfred Tuah Yeboah, has assured the public that the recent death of contractor Andrew Clocanas, involved in the Saglemi Affordable Housing Project, will not impact the ongoing prosecution's case.
The contractor, who passed away at his Airport Residential Apartment in October 2023, was facing trial alongside former Minister of Water Resources, Works and Housing, Collins Dauda, and three others in connection with the Saglemi Affordable Housing Project.

Deputy A-G Yeboah emphasised that the substance of the case remains unaffected by the contractor's death, and the trial will proceed accordingly, as reported by graphic.com.gh.

During the recent court proceedings on Monday, November 20, 2023, Collins Dauda was noticeably absent.

His lawyer, Thaddeus Sory, explained to the court that Dauda had received an emergency invitation to attend a pan-African conference in South Africa as part of parliamentary duties, emphasising that his absence was not intentional.

The Director of Public Prosecutions, Yvonne Atakora Obuobisa, raised concerns about Dauda's absence, questioning how he managed to travel outside Ghana when his passport was supposed to be in court custody.
Thaddeus Sory responded by stating that an application had been filed for Dauda to have access to his passport, which led to the withdrawal of the application.

"The notice came to him impromptu and he instructed us to make the application but apparently travel arrangements had been made and were required to leave before the hearing of the application," he added.

The court further inquired about Dauda's ability to travel without the required passport. Sory explained that the invitation was sudden, and travel arrangements had been made before the hearing of the passport application.

The court proceedings also featured the first prosecution witness, Rev Stephen Yaw Osei, the Acting Chief Director of the Ministry of Works and Housing. He is set to read his witness statement to the court and undergo cross-examination on Tuesday, November 21.

Collins Dauda, Dr. Kwaku Agyeman-Mensah, Alhaji Ziblim Yakubu, and Nouvi Tetteh Angelo are currently on bail and have pleaded not guilty to 72 counts related to willfully causing financial loss to the state, misapplying public property, issuing false certificates, and dishonestly causing loss to public property.
Ghana's leading digital news platform, GhanaWeb, in conjunction with the Korle-Bu Teaching Hospital, is embarking on an aggressive campaign which is geared towards ensuring that parliament passes comprehensive legislation to guide organ harvesting, organ donation, and organ transplantation in the country.



NW/NOQ

Click here to follow the GhanaWeb General News WhatsApp channel