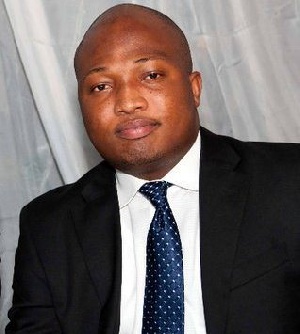 Sat, 21 Sep 2013 Source: Joy Online
A deputy Minister of Education has described as "ridiculous" and "bizarre", circumstances surrounding the sale of an oil drill ship by the government in 2001, to defray a debt owed by the Ghana National Petroleum Corporation (GNPC).
Samuel Okudzeto Ablakwa believes not much due diligence was done in the sale of the ship and that fall-out from the controversial deal proves the transaction was "woeful" - akin to doing a "table-top tomato business".

Former deputy Energy Minister in the J. A. Kufuor administration, K. T Hammond has explained on various media platforms that, he was authorized by the then government to dispose off an oil drill ship used by the GNPC.

The opposition New Patriotic Party Member of Parliament for Adansi Asokwa said, the ship was finally sold for $24 million to settle a negotiated judgment debt of $19.5 million owed to French multinational bank Societe-Generale.

About $1 million was used to pay the legal fees of government's solicitors and a balance of $3.5 million cheque paid to the Ministry of Finance and Economic Planning, the MP has explained.

But officials of the Ministry of Finance and the Bank of Ghana have, at a Judgment Debt Commission hearing, denied claims that the Ministry received the cheque. They also claimed not to have documents relating to the sale of the ship and the balance of $3.5 million. Officials of Societe-Generale also insist they have no record of receipt of $19.5 million.
Speaking on Multi TV and Joy FM's Newsfile, Samuel Okudzeto Ablakwa suggested Ghana could have gotten more from the sale of the Discoverer 511 ship which according to an ex-GNPC boss Tsatsu Tsikata, was making as much as $15 mllion dollars doing some work in Mexican waters.

"Who were the transaction advisors?" Okudzeto Ablakwa wondered.

He questioned the manner in which K.T Hammond had to travel "across oceans" from U.K to Ghana with a cheque in hand when he could have simply wired it into the accounts of Bank of Ghana.

Recounting K.T Hammond's version of events, the deputy minister said "if you listen to K.T Hammond he says I put the cheque in my suit case and I brought it down and met president Kufuor [who] patted me on the back and said you have done a yeoman's job, let's see the cheque".

"What if K.T Hammond was attacked while travelling to Ghana, Samuel Okudzeto Ablakwa asked.
The governing National Democratic Congress (NDC) MP for North Tongu condemned the transaction saying, "…the whole episode looks like some table-top tomato business".

He challenged K.T Hammond who has been making his case in the media, to "please provide the documents" otherwise, he and others ought to "shut up".

He said Ghana government today has had to hire helicopters from Cote D'Ivoire because logistics such as helicopters and speed boats were sold off by the Kufuor administration.
Source: Joy Online