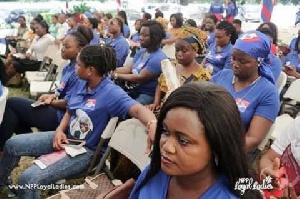 Residents of Saltpond in the Mfantsiman District of the Central Region are the latest beneficiaries of the nationwide free health screening programs offered by the Loyal Ladies of the NPP.
The medical team lead by Ms. Rebecca Kumah with support from staff of the Saltpond Government Hospital over the weekend treated over two thousand patients with various medical conditions including High Blood pressure, malaria and Hepatitis among others.

Ms Rebecca Kumah, who is a nurse expressed worry at the high prevalence of high blood pressure, otherwise known as hypertension, among the people.

The free health screening exercise which was patronized by people of all ages, formed part of the activities marking the celebration of this year's annual Odambia Festival.

Ms Kumah implored the beneficiaries of the health screening exercise whose conditions are precarious, arrange for a follow up treatment with specialists for effective management of their conditions.

The National President of the NPP Loyal Ladies, Perpetual Lomokie Akwadah, led a float through some principal streets of Saltpond, flanked by the Mfsntsiman constituency chairman of the NPP, Alhaji Jibril Adams, the Central Regional Youth organizer, Mr Anthony Sackey, and the MP for Mfantsiman, Hon Ekow Hayford as well as some party executives.
Ms Akwada said the NPP Loyal Ladies are not only interested in political activism, but also the physical well being of the masses.

The Member of Parliament for Mfantsiman, Hon Ekow Hayford, applauded the efforts of the NPP loyal ladies in augmenting the efforts of the government in providing health services to the the people, especially in deprived areas of the country.

The Mfantsiman MP said the health screening exercise by the Loyal Ladies is unprecedented in Saltpond, adding that his office will do everything possible to support such noble activities in the future.