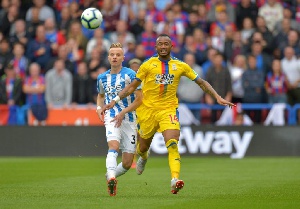 Former Bolton Wanderers manager Sam Allardyce and ex-Tottenham midfielder Jermaine Jenas have criticized Ghanaian attacker Jordan Ayew following Crystal Palace one nil defeat to Spurs.
Ayew had a brilliant game but looked unconcerned as he failed to head a ball which resulted in Tottenham's winner.

Allardyce and Jenas who were match-day pundits on BET castigated Ayew following Spurs victory.

"Watch Milivojevic, he's going crazy, 'go on head it', he's saying [to Ayew]."Allardyce stated.

Jenas also indicated that he did not know what Ayew was thinking as Milivojevic's action says it all.
"I'm not sure what's going through Ayew's mind, you have to attack that, you run, you jump, get whatever you can on it, get it clear and Milivojevic's face says it all." Jenas added.

Ayew who mostly starts from the bench has provided one assist in eight games for Palace this season.

Palace are now 16th on the league log.