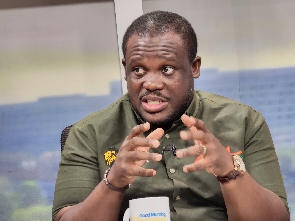 Celebrity Arsenal fans, Samuel Nartey George and KiDi were over the moon following the Gunners' dramatic 3-1 win over Manchester United on Sunday, September 3, 2023.
Mikel Arteta's men came from a goal down to record their fourth straight home win over Erik Ten Hag's men at the Emirates Stadium.

In a similar turn of events to that of the 2022/2023 season, Marcus Rashford shot United in the lead with a powerful finish for a splendid counter-attack.

Arsenal bounced back immediately with Martin Odegaard steering it home after being teed-up by the Brazilian winger, Gabriel Martinelli.

The real drama unfolded in the eight minutes of injury time with Declan Rice powering home a shot from close range after a failed corner clearance.

Gabriel Jesus recorded his first goal of the season with a delightful finish on the break after United had gone forward in search of an equalizer.

Arsenal fans on social media could not hide their excitement over the victory which means that they keep the chase on Manchester City.
Sam George has been a roll on Twitter, celebrating the victory and commending his players for the incredible performance.

Sam George has also been trolling some of his NDC colleagues who are known to be members of the Manchester United support group.


???????????? https://t.co/OCTBdwmjbo pic.twitter.com/2qP6UMFfAp

— Lord KiDi (@KiDiMusic) September 3, 2023
Bishop Raymond Acquah, Reverend @dolawanle, @Obuobia, Divine Selase Agbeti, @royaltcafe2012, Nii Sowa and Jojo Chartei Quansah, good morning brethren. Please I recommend Psalm 23 for you this morning for your devotion.

May Angel Gabriel make your enemies slide away before you… pic.twitter.com/IY7LGQAZUo

— Sam 'Dzata' George ???????????? (@samgeorgegh) September 4, 2023
Jesus, the good shepherd allowed Dalot to lie down in green pastures even as the Gunners had enough Rice without the Partey at the Emirates.

Check on a Manure United fan and see if they are still alive. ???????????????? pic.twitter.com/u8IYu9LjMT

— Sam 'Dzata' George ???????????? (@samgeorgegh) September 3, 2023
Manchester United didn't deserve to lose, the Referee favoured Arsenal. Such a terrible and unfair situation, I don't know what I can say to Manchester United fans to help the situation, but I'll start with Cry today, Cry tomorrow and Cry forever. Hold that L https://t.co/ZHCQ5u7RLR

— WelBeast (@WelBeast) September 4, 2023
Jesus sent Dalot to a different galaxy ???????? pic.twitter.com/l1tfZPUjdX

— Gooner Chris (@ArsenalN7) September 4, 2023
One thing which was one of the biggest positives for me was Arsenal's ability to play without needing to rely on Thomas Partey. It's been a long time since we've been able to say that.

— Connor Humm (@TikiTakaConnor) September 4, 2023
Most ????????????-???????????????????????????? goals in the Premier League since the start of last season:

◎ Erling Haaland - 34 ◎ Harry Kane - 25 ◎ Mohamed Salah - 19 ◎ Marcus Rashford - 18 ◎ Callum Wilson - 17 ◉ Martin Ødegaard - 16

No midfielder has MORE than the Arsenal man. ???? pic.twitter.com/v15apt7HXU

— Football Daily (@footballdaily) September 4, 2023
Have a great week, arsenal fans. Gun for greatness ????

???? @desirepedia pic.twitter.com/oK05S64hJw

— Lord KiDi (@KiDiMusic) September 4, 2023
GOOD MORNING ARSENAL NATION. HOW WAS YOUR SLEEP? ????❤️ pic.twitter.com/23dkxOqydc

— Ghana Gunner (@AFC_Fazeel) September 4, 2023
The silence you're witnessing on all social media platforms has been proudly sponsored by Arsenal

Thank you for humbling Manchester United pic.twitter.com/R1rCrFwJes

— Janty (@CFC_Janty) September 4, 2023
Father and son reaction, Manchester United vs Arsenal. I can't watch this alone ???????? pic.twitter.com/iFkZAoWWRt

— ????elorm (@selormafc) September 4, 2023
9:55 AM
Click here to start the nomination process for the 2023 GhanaWeb Excellence Awards
Ghana's leading digital news platform, GhanaWeb, in conjunction with the Korle-Bu Teaching Hospital, is embarking on an aggressive campaign which is geared towards ensuring that parliament passes comprehensive legislation to guide organ harvesting, organ donation, and organ transplantation in the country.
/KPE