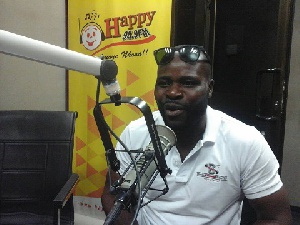 Former Ghana defender, Sam Johnson is backing Black Stars head coach Kwesi Appiah to build a formidable squad capable of qualifying to and winning the 2019 Africa Cup of Nations to be held in Cameroon.
Appiah, who returned to coach the senior national football team earlier this year, has been tasked to end Ghana's long trophy drought by winning the next AFCON.

His other task of 'doing his best' to qualify for the 2018 FIFA World Cup has already fizzled out after Egypt beat Ghana to the sole ticket in Group H of the qualifiers.

Ghana are in action later this weekend against Egypt in a game that has no consequence to the World Cup aspirations of Ghana, but Kwesi Appiah has refused to parade a weakened side for the final World Cup qualifier, insisting the game against Egypt forms part of his rebuilding process.

"I have heard people say there is nothing at stake, but that is not true," Appiah told Kwesé ESPN. "Every game from now is a step towards 2019 and I have made that point clear to all the players."

Despite the Black Stars' miserable campaign, Appiah can point out improvements in the last few months.

In the last three matches, all away from home, Ghana beat Congo-Brazzaville, and drew with Uganda and Saudi Arabia.
Appiah's impact may have come too late to save the Black Stars' World Cup campaign, but the sense remains that he's steering the team back onto the right path.

"The call-ups suggest to me this team is a rebuilding phase," former international Sam Johnson told Kwesé ESPN. "For every squad, he calls up two or three different players.

"It unsettles everyone in the squad in a positive way. The manner he has kept out some old players and how some of the new ones have taken their chances is positive for the team.

"I heard people complain a lot about how players were becoming too comfortable, how they didn't contribute much to the national team," he continued, "and yet when Appiah drops them, there is an uproar. I don't understand."

Appiah knows there is only one way of dealing with the disaffection that has come with his squads.

"There may be nothing at stake against Egypt but we have to win," he concluded. "We have to prove to this country that we still deeply care about the national team."