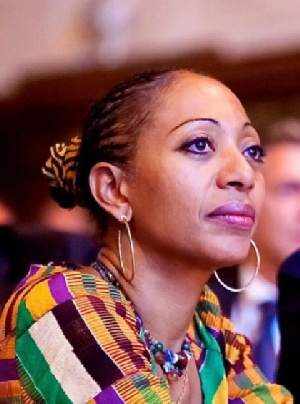 "It's been 48 years since you travelled. Thank you for showing us how to create a just society in Ghana. Thank you for leaving us a vision for African freedom and unity.
These guidelines will never die.

They are waiting for us to revisit and adapt them to meet today's demands."

These were the words of the only daughter of Ghana's first president, Osagyefo Dr Kwame Nkrumah as she commemorated her father's passing.

It has been a quiet day in the country as it seems focus on Coronavirus has taken a toll on the commemoration of the passing of the first Prime Minister of Ghana; Osagyefo Dr. Kwame Nkrumah.

Taking to social media, however, the former National Chairman of the Convention People's Party, Samia Nkrumah decided to celebrate her father's legacy in a distinguished way.

Having been forced into exile for six years after disgruntled military personnel overthrew him, Dr. Kwame Nkrumah sought solace in Guinea where he served as a co-president with his friend, President Sekou Toure.
There was jubilation in the country after the coup and Nkrumah reportedly wept while in Hanoi on a peace mission in Asia. All literature and anything that reminds Ghanaians of Nkrumah was destroyed to wipe off his legacy from the face of the earth.

He eventually died far away from his birthplace of Nkroful at the age of 62 in Bucharest, Romania on April 27, 1972.

Two separate funerals were held for the Ghanaian and Guinean co-president; one in Conakry while the other was held in Accra.

His body was returned to Ghana on July 7, 1972, from Guinea following a long diplomatic tussle. His first funeral in Conakry saw several African heads of state; five members of the Colonel I. K. Acheampong-led National Redemption Council that overthrew the democratically-elected Progress Party (PP) government of Dr. K. A. Busia; and representatives of 25 other countries paying their last tributes.