An aide to Kwame Nkrumah's daughter, Samia Nkrumah, is accusing her brother Sekou Nkrumah of being an irresponsible father who acted negligently in various regards towards his son, Alin, before his death.
Reacting to Sekou's post on Facebook, Samia's aide, Pierre Bandana, stated that Alin (Sekou's son) was at a point in his life sleeping on the streets of London until his Auntie, Samia brought him to Ghana.

"Alin made it to London and was sleeping on the streets. He was lucky to find Samia on Facebook and wrote to her. Samia brought your son to Ghana, gave him a place to stay, took care of him as her nephew he was," Pierre Bandana wrote under Sekou's Facebook post.

Sekou Nkrumah, who is now based in the US had stated in an early Facebook post that his siblings Samia and Gamal, plotted to bring his son, Alin, to Ghana without his knowledge when Samia decided to enter into politics but Alin didn't survive a year and died under some strange circumstances, a situation which really hurt him but his siblings had since not apologized.

"I was hurt again, this time my brother and sister plot to bring my son to live in Ghana with my sister without my knowledge. He does not even survive a year, and dies under strange circumstances!" he wrote.

Sekou in the post recounted how his family had taken some major decisions, leaving him in the dark; even decisions that had to do with the interest of the whole family.
"Am I missing something? During Ghana @40 I was then living in Accra when someone called me to ask me if I know my mother and brother (who were then living in Egypt) are in town for Ghana's independence celebration? I said no, and he directed me to the hotel they were staying. I went over and met my mother, my brother was out somewhere! I was really hurt that my own family would not tell me they were coming to Ghana and not even bother to contact me! Yes, the invitation was through government and I was then working with the opposition but was that fair?" Sekou Nkrumah quizzed.

He added, "Then Ghana @50! I was still living in Accra when my sister calls me from Italy to tell me that she has been invited by the government to attend the celebration! But she points out that she will be staying in a hotel and not the family house that I had moved into early 2001 after the change of government and my ability to reclaim the house. I had to use some "rough tactics" to get her to stay with me, and that prompted my invitation as well, although it almost got me in trouble at an event at the castle when a bodyguard to the First Lady pushed my hand away as I attempted to greet her! Funny that it happened shortly after I had been introduced to President Mugabe of Zimbabwe, and I still remember the look of surprise by our president when he saw me at the event!!!"

Sekou then questioned why his sister, Samia Nkrumah didn't inform him that she will be in Atlanta to attend the celebration of the Martin Lithur King Jr's day until a friend sent him a video of his Sister at the event.

"A few hours ago a friend sends me a video of my sister in an event in Atlanta celebrating MLK day and tells me that I should have been there??? How my brother? Did my sister tell me that she was coming to America for such an event? Hearing it through a third party does not count! No sir! And once again I am kept in the dark," his post reads with disappointments.

Pierre Bandana who was defending Samia wrote further that he knew very well that Sekou was aware that his sister will be in the States as a guest speaker at the Martin Luther King Jr's day celebration an invitation extended to her by Rev Dr Bernice King, Daughter of Martin Luther King Jr.
Read full post below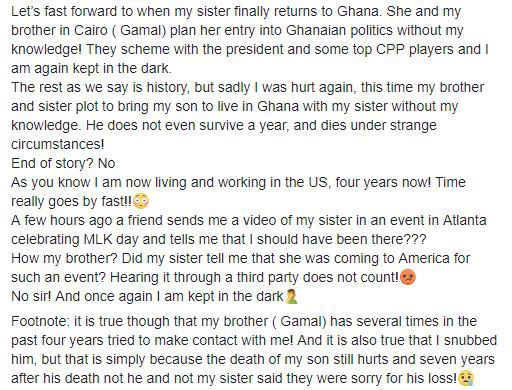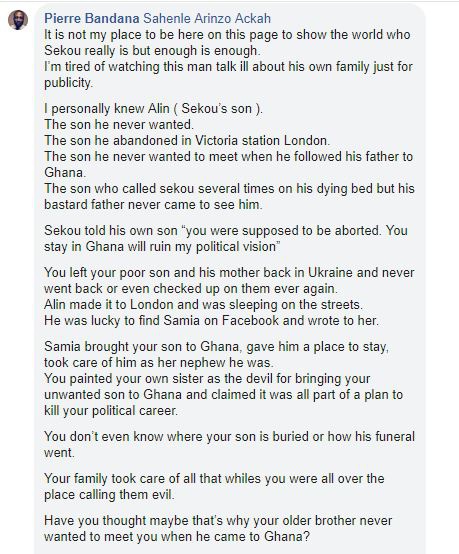 Send your news stories to and via WhatsApp on +233 55 2699 625.