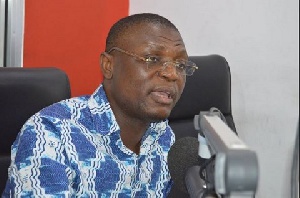 National Organiser of the opposition National Democratic Congress (NDC), Kofi Adams has responded to Dr. Samia Nkrumah's claims that the NDC is pretending to support her farther just to score political points.
He described her comments as 'unfortunate' and claimed "Samia is not the only child of Dr. Kwame Nkrumah so she can say what she wants to say".

The National Democratic Congress supporters hit the streets in a walk to commemorate the Founder's Day and the birthday of Ghana's first President – but the NDC were described as "opportunists" by Nkrumah's daughter.

According to Dr. Samia Nkrumah, the NDC cannot be shouting and preaching her father's ideologies when they are in opposition only to implement brute capitalist policies when they are in power – "that is hypocritical".

Until recently, the Founder's Day holiday instituted by the late president John Evans Atta Mills has been celebrated without any controversy.
However, a proposal by President Nana Akufo-Addo to introduce a new Founders Day on August 4, to acknowledge the contributions of all others in the independent struggle has sent tongues wagging.

Speaking on NEAT FM's morning show dubbed 'Ghana Montie', Mr. Kofi Adams said "Some of Nkrumah's children are in support of the NDC so we don't care if Samia is against us".

"Issues concerning Dr. Kwame Nkrumah are not about his close family, it's about, Ghana, Africa and beyond. Kwame Nkrumah is not even about CPP or NDC alone. Nkrumah goes beyond Samia. We will fight for his legacies. The NDC is not perturbed about what Samia is saying".

"We Will continue to honour and celebrate Dr. Kwame Nkrumah whether Samia likes it ir not," he added.