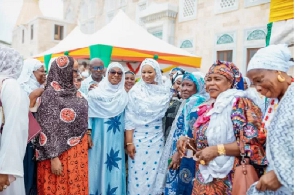 The wife of the Vice President Hajia Samira Bawumia has asked Muslims to live by the tenets of the holy Quran.
Speaking at the annual Ramadan Quran recitation at Nima in Accra, Hajia Samira said Muslims should not only read the holy book but practice what it teaches.

Ramadan is one of the most important pillars of Islam because it was during that period that the holy Quran was revealed to Prophet Mohammed. As part of efforts to help Muslim women grow their faith in Islam, the office of the wife of the Vice President in collaboration with the Zongo women for NPP organizes Quran recitation in Muslim communities.

The event is in its fifth year and is open to all Muslim women irrespective of their political affiliation.

At this year's event, some women clerics drawn from Kasoa, Nsawam, Madina and Ashaley Botwe participated.
Speaking at the function, the chairman of the Zongo Development Fund and chairman of the Hajj Board, Alhaji Ben Abdallah Banda said the NPP government is poised in bringing development to Zongo communities across the country.

The wife of the Vice President Hajia Samira Bawumia entreated Muslim women to dedicate some of their time to reading the Quran. She called for unity among Muslims for the development of the country.

Some food items worth millions of cedis were donated to women groups in the Zongos to support them during the month of fasting.