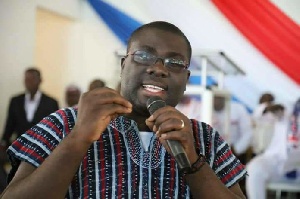 National Organiser of the governing New Patriotic Party Sammi Awuku has taken a swipe at Minority members in parliament for walking out on the swearing-in ceremony of the newly elected Member of Parliament for Ayawaso West Wougon, Lydia Alhassan.
Sammi Awuku who described the Minority's conduct as 'Shameful and distasteful" argued that the move was not a feature democracy especially for legislators who pride themselves in women empowerment.

'It is rather unfortunate that these legislators who contribute to the advocacy of women empowerment and laws against discrimination and infringement of human rights, behaved in such a distasteful manner. Then again, it is surprising how men born of women exhibited such glaring disrespect!' he wrote in a Facebook post."

According to the Mr. Awuku the minority should bow down their heads in shame for what he described as 'gross misconduct' in yesterdays parliamentary proceeding.

The Minority walked out of Parliament in protest of the swearing in of newly elected MP for Ayawaso West Wuogon, Lydia Seyram Alhassan.

Some Minority MPs shouted shame and jeered as the Speaker of Parliament read the summons from the Electoral Commission.
Some also held up placards which read "bloody widow", in reference to the confusion in the incidents of brutality from National Security personnel during the by-election.

According to they boycotted Ms Alhassan's investiture because they did not want to give credence to her victory in the by-election on Thursday, 31 January 2019, which was characterised by violence.