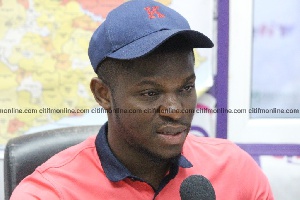 A member of the communications team of the opposition National Democratic Congress (NDC), Sammy Gyamfi insists that former Attorney General and Minister of Justice, Martin B.K.A Amidu is not fit to become the first Special Prosecutor in the country.
He argues that lacks the credibility to occupy such a sensitive position in the country discounting claims that it is for fear he may haunt past officials they are opposed to his appointment.

"No one is scared of Martin Amidu we are only concerned with the reputation of the country and should not allow such a person to occupy that position", he revealed in an interview with mynewsgh.com.

Sammy Gyamfi gave the below reasons for his decision not to back Martin Amidu as Special Prosecutor;

1. The man is an erratic personality who lacks discipline. His attempt to physically assault President Mills and his apology letter to that effect is a testament of that fact. He is a man who is controlled by emotions cannot be appointed into such an important office.

2. He's not an honest and sincere person. His lied against former President John Mahama in the Supreme Court which was struck out by the court as false and scandalous, his lies against Charlotte Osei and Anas Aremeyaw Anas which is a testament of this fact.
3. He is a bitter man and his appointment is a deliberate exploitation of lethal bitterness against the NDC, by President Akufo Addo. His hatred and bitterness against John Mahama and his appointees will obviously cloud his sense of judgment. He is very prejudiced against John Mahama and some officials of the erstwhile regime. He is on record to have called John Mahama a looter president, a disgrace to northerners etc. and the fact that John Mahama doesn't deserve to be president again. And as a matter of fact, he has hinted that his primary aim to prevent the comeback of John Mahama come 2020.

4. He lacks principle and consistency. His persistent attacks on the former regime vis-a-vis, his deafening silence on the currently corrupt happening in this present gov't says it all

5. His acceptance of this position makes him a walking contradiction. This is a man who attacked the Special Prosecutor Bill and alleged that some corrupt elements in this government had inserted some clauses (specifically clause 3(4) into the bill. He has till date refused to make the so-called officials behind that.

6. His appointment is a reward for an NPP convert. The position of SP should have gone to an independent-minded person. Not a person who worked with the then opposition NPP and who openly campaigned for them to be elected