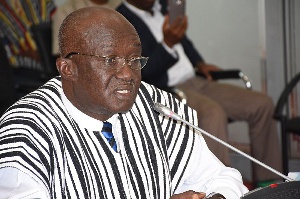 The Minister for Sanitation and Water Resources Joseph Kofi Adda has said Ghanaians should not expect overnight solutions on the fight against filth in the country.
He said the effort of his ministry towards cleaning the country will begin to show in the later part of the year.

"The overnight solution people are expecting to get from the Sanitation Ministry will not happen just like that. It will take some time. We are starting from nothing…we are coming to the level where we will see results. As a minister, my role is not to go round with a broom and wheelbarrow to sweep and collect rubbish. I can assure you by the end of the year you will see Accra very clean," Mr. Ada told Francis Abban on the Morning Starr Wednesday.

He noted his major challenge has been with inadequate funding for his operations.

"In 2017, government gave us GHC25million…we used some of the cash to pay service providers…we used some to get illegal dumpsites cleared. Sometimes when you're put in leadership position…you may have to dip your hands into your own pocket to make things happen. The donors give us money but they demand the cash donated be used for particular projects".
Mr. Adda who has come under heavy criticisms particularly on social media over the filthy state of Accra, said he feels justified remaining in office.

"At the end of the month when I am paid, I feel I have been paid on merit".