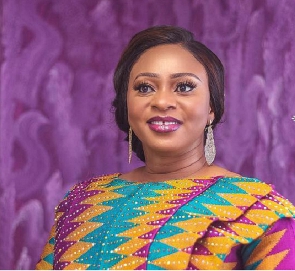 The Member of Parliament for Dome–Kwabenya on the New Patriotic Party (NPP) ticket, Sarah Adwoa Safo, has declared her intention to contest in the pending 2024 general elections.
Adwoa Safo, who initially entered parliament in 2012, made a public apology to the president, vice president, and the NPP leadership last week, acknowledging her past actions that had an impact on the party.

Having been absent for nearly a year, her absence created a void in both parliament and at the Ministry of Gender, Children, and Social Protection, where she previously served as minister.

Addressing journalists during her constituency tour, Sarah Adwoa Safo confirmed that she had already informed the party about her decision to seek re-election.

"Politics relies on the will of God and the people. If they desire it, and it's the will of God, I will run again," she stated.

Meanwhile, the Deputy General Secretary of the NPP, Haruna Mohammed, has expressed positive sentiments regarding her apology, stating that it reflects well on the party's reputation.
"Her actions are commendable, and the party embraces her apology," Haruna Mohammed remarked.

However, not all NPP executives in the Dome-Kwabenya constituency are convinced by the apology issued by Member of Parliament Sarah Adwoa Safo.

The NPP Constituency Secretary for Dome-Kwabenya, Theophilus Larbi, regarded her apology as routine and raised concerns that her potential re-election as the parliamentary candidate in the upcoming general elections might have an adverse impact on the party's prospects in the constituency.

Watch the launch of the 2023 GhanaWeb Excellence Awards on GhanaWeb TV below:




Click here to start the nomination process for the 2023 GhanaWeb Excellence Awards

Ghana's leading digital news platform, GhanaWeb, in conjunction with the Korle-Bu Teaching Hospital, is embarking on an aggressive campaign which is geared towards ensuring that parliament passes comprehensive legislation to guide organ harvesting, organ donation, and organ transplantation in the country.

NAY/EA