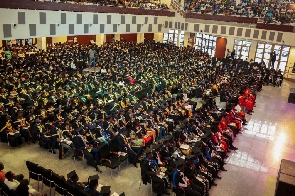 Fri, 24 Mar 2023 Source: GNA
Dr Ray Kakrabah Quashie Jnr, Emergency Trauma Physician, Korle-Bu Hospital, has advised the University of Ghana graduands not to take loan to buy car after school to impress society.
He asked them to rather save their salaries and use the investment as security to take loans to buy car if they needed it.

"The appearance of success is all a matter of time. You need to develop yourself and never set yourself up to compete with others, especially imitation competition, which may lead to failure," he said.

Dr Kakrabah-Quashie said this on Thursday at the graduation ceremony for the Colleges of Health Sciences for the 2021/2022 academic year.

The ceremonies were held with a total of 11,711 students graduating from all four Colleges as well as the School of Graduate Studies.

He admonished them to view education as a means to an end and not an end in itself, adding that the process of acquiring a degree was meant to equip them to be problem solvers.

"You may have studied medicine, but you will be required to solve a banking problem in addition.
"You may have studied biochemistry, but may be required to solve a problem medical Doctors are grappling with," he said.

He said the measure of one's success should not be within the personal sphere only, or what the individual alone benefited, but the larger society.

"I urge you to be focused… Make good use of influential people in society for your career development," he said.

Professor Nana Aba Appiah Amfo, the Vice Chancellor, the University of Ghana, said the University 2022 started the construction of a Ph.D. Apartment Block dedicated to Ph.D. students.

It was funded by savings on the Carnegie-sponsored capacity-building projects.

The University, she said, had re-introduced the in-out-out-out policy, which would result in all the traditional halls of residence being reserved for fresh and graduate students.
The policy, which is being implemented progressively will be in full force by the 2025/2026 academic year.

She said a Seven-Member Board of the Students Representative Council Development Fund had been inaugurated to champion the implementation of the physical development projects initiated by students.

On research activities, she said that from July 2022 to date, the University had received 62 research grant contracts and agreements with a total value of US$4,676,636.73 executed, with expected overheads of about US$508,353.46.

"In addition, 18 sub-award agreements worth US$1,452,051.08 were issued, and the Office of Research, Innovation, and Development facilitated the submission of 28 proposal/grant applications to various funders worth US$25,665,527.34."

Ms Mariam Williams, the Best Graduating Student, Bachelor of Science Programme in Nursing, pledged to use the knowledge acquired to impact society positively.
Source: GNA