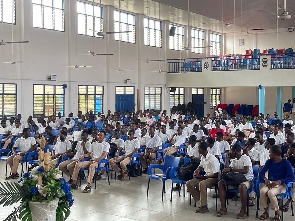 Wed, 8 Feb 2023 Source: Ghana chamber of content producers
Ghana Under Tertiary awards has begun a series of workshops to admonish students of senior high schools to stay away from harmful drugs that could affect their future. The workshops which form part of the activities of the maiden edition of an award scheme to recognize and reward deserving pre tertiary students began at the Presbyterian Boys Senior High school, Legon.
The main speaker of the event, Dr Sylvester Amoako; Senior House Officer, Department of Psychiatry at the Korle Bu Teaching Hospital entreated the students to desist from the use of drugs like cocaine, marijuana, tramadol and even alcohol. He said these drugs have long-term negative effects on the user.

"As you enter senior high school, you are likely to come into contact with drugs, either through peers or at parties at home. It's important that you understand the risks associated with drug abuse.

Drug abusecan lead to addiction, health problems, financial hardship, and legal trouble. It can also cause strained relationships with family and friends.

Drugs can have a negative impact on your physical and mental health. Drug use can lead to an increased risk of addiction, liver damage, heart disease, and stroke. It can also lead to depression, anxiety, and other mental health issues. Drug use can also cause financial hardship. Drug users may find themselves

spending more money on drugs than they can afford, leading to financial problems.

Finally, drug use can lead to legal trouble. Drug use is illegal in Ghana, and those caught using drugs can face fines, jail time, or other penalties.
In short, drug abuse can lead to serious health, financial, and legal problems. It's important that you understand the risks and make responsible choices when it comes to drugs.

He used the occasion to encourage those who were already addicted to drugs to seek early treatment since drug addiction can be reversed through different types of rehabilitative procedures.

The CEO Pierian Spring, Mr Michael Chris Tetteh organizers of the Ghana Under Tertiary awards also used the occasion to encourage the students to prioritize their education above any other thing including the short pleasures of life. He revealed that in as much as education is a right to every individual, to some, it's a privilege to be in school.

"Education is something that everyone has the right to, regardless of their socio-economic background. It provides a platform for success and a chance to reach your goals. It's the only thing that provides an equal chance of a future to the son of a poor man and the son of a rich man. However, sometimes education can be a privilege. If you have the opportunity to be in school, do not let

impediments such as drugs truncate the privilege you have. Drugs can have a detrimental effect on your future and your life" he stated.

Miss Hilda Rosenthal, the MC of the event encouraged the students to live an exemplary life to be able to receive recognition from awards schemes such as the Ghana Under Tertiary Awards.
Ghana under Tertiary Awards is the biggest award scheme to mobilize over 150,000 in senior high schools both private and public and over 80,000 in both junior high school and basic schools for award and mentorship. This scheme is in recognition of their work and effort as part of their contribution to the development of Ghana and Africa as a whole. The initiative is to Award students whose lives have transformed their communities through their contribution in the area of their work even though they are students.

The award scheme provides a platform to celebrate students with great achievements, an innovative and dynamic framework for the exchange of ideas in development knowledge, connecting institutions and students, equipping students with the skills of picking up leadership roles, inspiring and empowering

students to affect the economic development and bring social change. This is the first edition of the award scheme headlined by Pierian Spring. The event is also supported by the Ghana Chamber of Content Producers.


Source: Ghana chamber of content producers