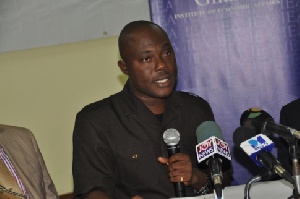 A political Scientist, Dr. Ransford Gyampoh has recommended that the Chairperson of the Electoral Commission (EC), Charlotte Osei ought to be schooled on nationalism to broaden her horizon on governance.
The Electoral Commission (EC), Tuesday, April, 27 said it took a decision to change its old logo because the commission does not represent the authority of the state as embedded in the Coat of Arms.

"From the research that we did, the Coat of Arms does not speak to the legal and functional Independence of the commission -We should not represent the authority of the state," Chairperson of the Commission, Charlotte Osei said at a launch of a five year strategic plan of the EC at the the Best Western Premier Hotel in Accra Tuesday April 26.

But Dr. Gyampoh interacting with host Fiifi Banson on Anopa Kasapa on Kasapa 102.3 FM said the EC Chair for the purpose of her job needs clarity on the distinction between the words "State and Government", insisting that Osei seemed confused about the nuances of the EC being an appendage of the State, eventhough it is independent.
"I think she needs to be schooled by a political scientist in the areas of nationalism, because you can't say the EC does not represent the authority of the State. Maybe she's trying to say the EC does not represent the authority of the government.

"The EC is an independent body created by the state, and it derives it legitimacy and authority from the State. So the Coat of Arms symbolizes the authority, legitimacy and sovereignty of the State, hence if you're backing your authority with the Coat of Arms then it's in the right order.

"From this issues, and by reason of the fact that the EC has removed the Coat of Arms as part of its symbol, we can infer that the authority of the EC as vested in it by the State has practically been reduced"