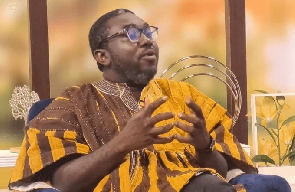 Oliver Barker-Vormawor, a lead convener for the #FixTheCountry Movement, has slammed the government over the amount of money it pays caterers under the School Feeding Programme.
According to Barker-Vormawor, the amount the government is paying to caterers providing meals to students benefiting from the programme is woefully inadequate.

In a tweet shared on Tuesday, June 6, 2023, the convener added that the amount the government is paying under the programme means the students benefiting from it are being fed unbalanced diets.

"1 Ghana cedi! That includes the caterers profit? And they haven't even been paid for months. Where are they shopping for supplies? What kind of food does one buy for less than 50 pesewas, then spend on cooking, and transporting the food?

"Very soon, either a major scandal will break that some caterers are mixing sawdust into their food; or we are nearing a major outbreak of food poisoning that will result in the death of school children.

"This is the largest Government funded Kwashiorkor programme I have ever seen," parts of the tweet read.
Barker-Vormawor, a private legal practitioner, called on the government to cancel the programme if it cannot ensure that caterers under the programme are paid well so that they can feed Ghanaian students, balanced diets.

Meanwhile, the Minister for Gender, Children and Social Protection, Lariba Zuweira Abudu, has said the cost per meal for each school child would be increased from GH¢1 to GH¢1.20.

The GH¢1.20 proposal comes after caterers called on the government to increase the feeding price per child.

"The feeding cost per meal per day per child was increased from 80 pesewas (80Gp) in 2018 to GH¢1, and in 2023, the cost per meal per child per day has been proposed as GH¢1.20," she said.

Speaking at a press briefing in Accra, Lariba Zuweira Abudu noted that the school feeding programme has provided employment for people, especially women.
She said the GSFP has given caterers the opportunity to generate income to fend for their families.

She pointed out that there were about 34,350 caterers under the School Feeding programme who cooked for about 3,801,491 beneficiaries in 10,832 public basic schools across the country.

View Oliver's tweet below:


In Re Nimfa vrs Quayson & 2ors [2023] SC, I wish to ask by way of matters arising:

A Ghanaian Justice, who is on secondment in The Gambia or Kenya & takes the Oaths of Office of any those Countries & sits in judgment & delivers rulings, where do you think their Allegiance lie?

— Rockson-Nelson Dafeamekpor, Esq. MP. (@etsedafeamekpor) June 5, 2023
Meanwhile, watch the first episode of Everyday People on GhanaWeb TV below:



You can also watch the latest episode of People & Places here:






IB/OGB