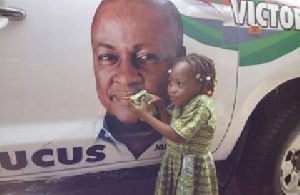 It appears the use of Kalyppo in the day-to-day political party campaigns in Ghana ahead of the December 7 polls barely two months away continues to persist.
A new image making rounds of various social media platforms captures a school girl putting a straw of 'Kalyppo' on lips of President John Dramani Mahama's image on a branded party vehicle.

It is not immediately known if the girl was coached by an adult who took the image or did it herself thereby attracting the prying lenses of onlookers.

The flagbearer of the New Patriotic Party (NPP) Nana Addo Dankwah Akufo-Addo weeks ago was spotted in a picture drinking the natural fruit juice brand mostly for kids.

According to the photo that went viral on various media platforms, the NPP nominee for the December polls was seen in a vehicle in white attire enjoying his Kalypo.
His supporters subsequently, NPP supporters started a challenge posing with the drink and taking 'selfies' to counter attempts by his political opponents to make mockery of him.

The Chief of Staff Julius Debra during a recent campaign of the Brong Ahafo region warned against the consumption of Kalypo saying "I am pleading with you to avoid taking Kalyppo because the sugar content is harmful to your health,"

According to him, adults who are fond of drinking Kalyppo risked being infested with "Kalyppolitis"