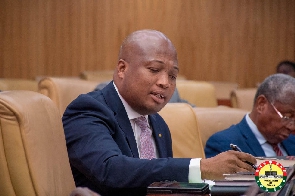 The Member of Parliament for North Tongu, Samuel Okudzeto Ablakwa, has asked the government to cancel the Electronic Transfer Levy (E-Levy) now that the government is planning to reintroduce road tolls.
According to him, the government made it clear before implementing the E-Levy that it was a replacement for road tolls.

He observed that the government does not properly consider its policies before implementing them.

The lawmaker stated that the government cannot have it both ways.

He said you cannot have in place the E-Levy and reintroduce the toll.

"The government told us that they were introducing the E-Levy because they had removed road tolls. They can't have it both ways if they want to reinstate the toad toll. "The E-Levy must be repealed."
He asserted that Ghanaians must demand answers from the government because one of the reasons and justifications for this poorly thought out policy was that we would have to pay E-Levy.

The MP made these remarks in response to a press statement by the Minister of Finance indicating that tolls would be reinstated.

He was speaking in an interview with Rainbow Radio's parliamentary correspondent Philomina Kuntu Blankson.

The finance minister wrote to the Ministry of Roads and Highways to confirm the approved fees as tolls on roads and bridges will be reintroduced this year.

According to Ken Ofori-Atta, "It is provided under Section 6 of Act 1080 for the Minister to amend the schedules of the Act to include or exclude MDAs and/or adjust the fees and charges collected by MDCs for their services through a Legislative Instrument when necessary."
"Accordingly, this ministry has initiated steps to provide for foundational rates for tolling of roads and highways as part of the amendments of the Act, pending completion of the process to identify the rods and highways to be affected by the reintroduction of the road tolls as stated in the budget," he added.

The approved fees for motorbike users will pay 50 pesewas instead of 19 pesewas.

Saloon car users will pay a fee of GH¢1 rather than the previous 50 pesewas fee.

Pick-ups/4×4 vehicles and light bus users will be charged GH¢1.50 pesewas when the toll booth reopens.

Drivers of heavy buses will also pay GH¢ 2 instead of the GH¢1.50 pesewas they used to pay.
For drivers of medium and heavy goods trucks up to 4 axles, the fee to be paid will be GH¢3 instead of GH¢2.

In response, Okudzeto Ablakwa slammed the government, accusing it of failing to properly consider its policies.

"I must state unequivocally that this government does not carefully consider its policies before implementing them. As a public policy student, I can say that this government does not have the ability to consult widely and to be scientific or empirical in its policy implementation.

Unfortunately, our government is uninterested in consulting. All of their policies have been a disaster. Several examples, including the luxury car tax and the benchmark at ports, have all been disasters. We advised them against eliminating the toll, but they did not listen."