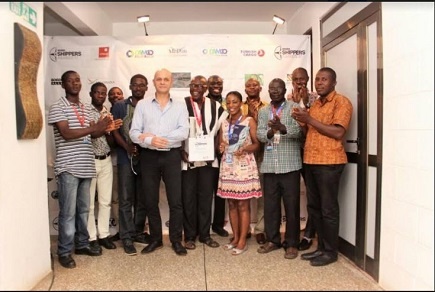 Fri, 4 Aug 2017 Source: Elijah Atta-Aidoo
▶ Click Here for Full AFCON Coverage ◀
Sea and Shore Services Limited picked up the Marine Service Provider award at the just ended Ghana Shippers Awards held at the plush Movenpick Ambassador Hotel.
The award was aimed at recognising excellence in the shipping industry to imbibe in the players a sense of fulfillment and greater zeal to achieve higher laurels.

The night saw many companies walk away with awards and recognition of their works.

Sea and Shore Services Limited which was established in 2010 with the specific aim of performing ship services and supplies (handling) in the maritime industry, boasts of a seasoned team of professionals with over 30 years experience in the shipping business and have established a strong global network of resources that enables them to provide top-notch services.

The company's number one priority is safety, followed by customer satisfaction, which is accomplished by providing the highest quality of service at the best prices on the shipping and maritime market.

The Minister of Transport, Kweku Ofori Asiamah who was the special guest of honor charged players in the shipping industry to introduce modern technology in their activities to improve efficiency and to conform to international best practices.
He outlined some measures by the government to make the shipping industry economic viable to reduce the cost of doing business.

A board member of the Ghana Shippers Awards, Michael Luguje who is the President of the ports management of west and central Africa entreated players in the shipping industry to offer services that will facilitate trade.

The CEO of Ghana Shippers Authority, Benonita Bismarck said the authority will continue to address the challenges of shippers to make them competitive.


Source: Elijah Atta-Aidoo