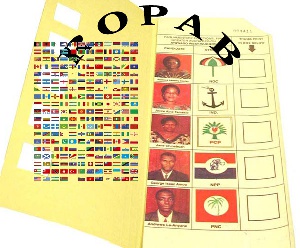 Tue, 21 Feb 2006 Source: GNA
Accra, Feb. 21, GNA - The second demonstration against the Representation of the People (Amendment) Bill (ROPAB) got underway in Accra on Tuesday with hundreds of marchers clad in red and bearing placards condemning the bill.

The demonstrators, who include several leading members of opposition parties, began their march, organised by Concerned Ghanaians, amidst drumming and singing from the Kwame Nkrumah Circle. The march would end at the Castle where they expect to present a petition to the President.


Some of their placards read: "TUC says no to ROPAB", "ROPAB is NPP's weapon for destruction", "Nananom should kick against ROPAB", "God forbid the passage of ROPAB".


About 1,000 police officers under the command of Greater Accra Police Commander, Assistant Commissioner of Police (ACP) Douglas Akrofi Asiedu are out in the streets to maintain law and order.


Police officers, some in riot gear are positioned at intersections along the route of the march which would be from the Kwame Nkrumah Circle through the Kwame Nkrumah Avenue to the Farisco Traffic Lights. The demonstrators would turn left to the TUC Building through National Theatre, the Ministries and to then to the Castle.


According to Mr Haruna Iddrisu, spokesman for communications of the National Democratic Congress (NDC), they would stop intermittently at traffic lights and rest until they reached the Castle.

Several leading members of opposition parties, including former vice president Professor John Evans Atta Mills, Chairman of the EGLE party, Mr Danny Ofori-Atta, the Acting Chairman of the People's National Convention, Alhaji Ahmed Ramadan, Dr David Pessey a leading member of the National Reform Party and MPs of the opposition parties are among those who started the demonstration.


Prof. Mills told the crowd before they started the march that the demonstration was a peaceful registration of their protest against the bill and they would continue to mount the campaign to draw government's attention to their request to withdraw it.


Mr Ofori-Atta said the demonstration was non-partisan and urged all Ghanaians to continue to protest against the bill wherever they were. The first anti-ROPAB demonstration was staged in Accra on February 14.


The Minority in parliament has boycotted parliament over the issue which is one of the major topics of discussion at the moment. Opposition parties have thrown their weight behind the anti-ROPAB demonstrations and asked their supporters to join the marches. The Committee for Joint Action (CJA), which was formed last year to protest against fuel price increases, has also called on Ghanaians to join Tuesday's demonstration to protest against last Friday's fuel price increases.

Source: GNA