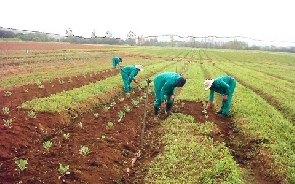 The Deputy Ranking Member on the Committee of Food, Agriculture and Cocoa Affairs, Dr. Godfred Seidu Jasaw, has poked holes into the government's launch of the second phase of the Planting for Food and Jobs programme.
According to him, the newly launched programme has nothing special and is not entirely different from the initial one that did not see the intended results.

"So clearly, there is nothing special about PFJ Phase 2.0. It's just a way of telling us the government can no longer support input subsidy and that farmers will be left in the hands of private commercial entities to negotiate and transact their own production input regimes based on market determinants," he said.

He said it "is substantially not different from the PFJ this government has implemented since 2017."

Dr. Jasaw also noted that the presence of the International Monetary Fund may make it somewhat difficult for the government to invest in agriculture.
"What exactly are you going to spend the 660 million Ghana cedis approved for PFJ in the 2023 budget on since PFJ ended way back in December 2022? Why has government failed to support food crop farmers in Ghana since January 2023?

"Private agro-dealers and aggregators have been implementing various forms of input credit support schemes to farmers for many years now, what exactly would this new PFJ input credit do differently? In what exact ways are you going to get financial products to agribusinesses at so-called reduced interest rates?" he questioned.

The NDC MP further emphasized the fate of smallholder farmers and the risks that they face as far as inputs are considered.

"How are you going to protect the smallholder farmer from profit motives and market risks under which the input dealers operate? How will you achieve import substitution for critical commodities like rice, maize, and poultry since you have no measure in place to reduce input/production costs?
"How are you going to protect the agri-businesses against the risk of no or under-recovery of produce from beneficiary smallholder farmers? What is the exact start date the farmers will begin to benefit from the government's integrated smart input credit program?" he asked.

The MP further sought to find out where the funding for the programme will be coming from since the 2023 budget did not make provisions for that.

"Who would hold the produce stock at the end of each production government or private businesses? What are the top 3 priority commodities for the short term out of the eleven crops selected for promotion in PFJ Phase 2 that drive down current high food prices and will deliver food security in the short term?

"What is the cost of PFJ 2.0 and where will its funding come from since it wasn't provided for in the 2023 budget?" he added.
SSD/NOQ

Ghana's leading digital news platform, GhanaWeb, in conjunction with the Korle-Bu Teaching Hospital, is embarking on an aggressive campaign which is geared towards ensuring that parliament passes comprehensive legislation to guide organ harvesting, organ donation, and organ transplantation in the country.

Watch the latest edition of BizTech and BizHeadlines below:








Click here to start the nomination process for the 2023 GhanaWeb Excellence Awards