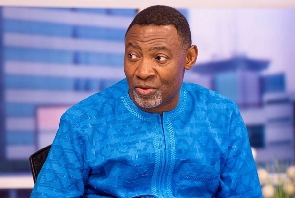 Founder and Leader of the World Miracle Outreach, Dr. Lawrence Tetteh has stated that the Security Agencies have leads and intel on people involved in galamsey and has tasked them to clamp down on them and leave the innocent pit side workers.
Speaking on the GTV's Breakfast Show on January 5, 2023, the man of God explained that, the issue of illegal mining can be brought to a halt.

"We should stop the lip service, …….. we should make sure that the right people are sentenced," said Mr. Tetteh.
In addition, he explained that when the security agencies sit in their helicopters to survey these galamsey sites, they see everything, and he believes that in every Municipal and District of Ghana, security agents there are aware of the kingpins of galamsey so they should go after them rather than the petty pushers if the menace would be nibbed in the bud.

Rev. Dr. Tetteh believes Ghana has the qualities to combat the galamsey menace and that the fight should be a collaborative effort by all Ghanaians.