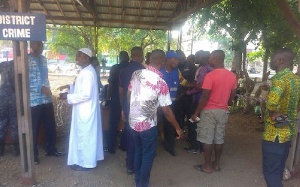 Some security officers in the Tamale Central constituency in the Northern region have vandalised voting materials over their missing names on the second round of special voting.
The officers numbering about twenty reportedly kicked ballot boxes, booths and other essential materials after they were told their names could not be traced on the voting list.

According to Starr News' Eliasu Tanko the aggrieved officials had earlier threatened to pepper spray the EC officials at the polling centre over the same problem.

They claim the mishap is a deliberate attempt by the EC officials to disenfranchise them.

Meanwhile, Northern regional Police commander DCOP Ken Yeboah has said the officcers will be punished for the misconduct.
The complaints of missing names in today's round of special voting is widespread with reports coming from across the country.

The EC is yet to respond to the new complaints.

In the Volta region, some security officers have threatened to curse the EC if they are unable to vote.