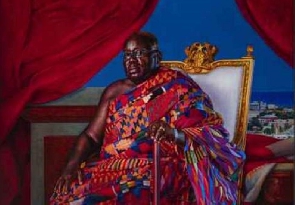 Nana Addo Dankwa Akufo-Addo was one of a handful of sitting African presidents who were painted by an artist who rose to fame as the first African-American artist to officially paint a US president – Barack Obama in 2018.
Kehinde Wiley, this week, published 11 paintings featuring a numder of sitting and former African heads of state.

In the case of president Akufo-Addo, he painted him in colourful kente cloth, seated on a chair with the national coat of arms.

Akufo-Addo spots a pensive look with his right hand on his knee and the left on a gold-plated walking stick.

Other African presidents painted include Ethiopia's President Sahle-Work Zewde, Felix Tshisekedi of the Democratic Republic of Congo, Denis Sassou Nguesso of the Republic of Congo, Macky Sall of Senegal and Faure Gnassingbe of Togo.

Former presidents painted included: Nigerian Olusegun Obasanjo and Alpha Conde of Guinea.
About 'A Maze of Power' exhibition:

The artist's exhibition, A Maze Of Power, has just opened at the Musée du Quai Branly – Jacques Chirac in Paris, France and will run until January 2024.

The portraits were 10 years in the making, he says in a documentary about his work.

Between 2012 and this year, he travelled around Africa meeting various leaders, discussing themes such as the history of aristocratic, royal and military portraiture in 17th to 19th Century Europe.

He used these discussions to inform his work, creating compositions which illustrate the singular view of each leader on what it means to be a contemporary African leader.
"This is a look at the presidency itself. This is an invitation for the viewer to expand the possibilities of what it means to look at art in Africa, about Africa, and about power."

Here's some of his work: