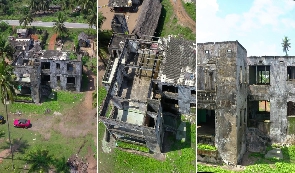 Surrounded by greenery and only few meters from the beach in Ghana's Western Region, it stands dejected from years of abandonment, left to the vagaries of the weather – rain, sunshine etc.
Its falling walls, rusted metals, missing doors and window panes plus ever peeling and worn off paint is a testament of the stress that the one-story building has gone through and continues to suffer.

This is the state of the one-time official home of Ghana's first president Osagyefo Dr. Kwame Nkrumah.

The building was a countryside home for the then president, built by the government via the Public Works Department (PWD), according to a narration by YouTuber, Wode Maya.

"Look at the state of the house right now, this is the country that we live in, where people don't care about the history, they don't even consider the fact that we have to preserve our history for the next generation," Maya laments.

The narrator claims that the facility has often hosted Nkrumah's guests, including presidents, who were usually hosted in the house whenever they visited, leaving behind the hustle and bustle of the capital to enjoy the scenery and serenity of the countryside.
The resting place of Nkrumah is at the Kwame Nkrumah Mausoleum in Accra.

Situated on the outskirts of Accra along the coast, the Kwame Nkrumah Memorial Park occupies the former Accra Polo Grounds, where Dr. Kwame Nkrumah famously declared Ghana's independence.

Initially established in 1990 by the late Head of State, Jerry John Rawlings, the park stands as a testament to Ghana's vibrant heritage and was first opened to the public in 1992.

Over the years, the park has drawn visitors from around the world, with approximately 98,000 individuals annually coming to pay homage to Ghana's first President and gain insights into his remarkable life and enduring legacy.

After undergoing renovations, the park was officially commissioned by President Akufo-Addo on Tuesday, July 4th, 2023, setting the stage for its much-anticipated reopening to tourists.
The Abandoned Villa Of Ghana's First President Osagyefo Dr Kwame Nkrumah in Half Assine???? pic.twitter.com/AybW4vnzyn

— Wode Maya (@wode_maya) July 11, 2023
SARA
Watch the latest episode of The Lowdown:
In the meantime, watch the latest episode of #SayItLoud on GhanaWeb TV with Etsey Atisu below:





Share your news stories and ideas with GhanaWeb


To advertise with GhanaWeb