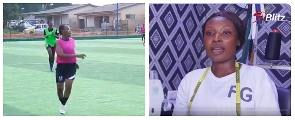 The ability to blend football with another passion is what has driven most footballers to attain higher heights after bidding farewell to the discipline.
The narrative among female footballers is limited in Africa is on a rise as most have jobs ad still play professional football.

However, Selina Kwaeuniwa is gradually following the footsteps as the full-back has a shop where she sews apparels for a living.

Selina Kwaeuniwa's love for football started at a tender age in Accra, often competing with boys in her neighborhood.

As each year passed, Kwaeuniwa's infatuation for the sport grew and in 2020, she began playing professionally.
Three years down the lane, Selina Kwaeuniwa now plays for newly promoted Ghana Women's Premier League side Jonina Football Club.

But football wasn't the only thing Kwaeuniwa held over the years. During her spare time, Selina sewed dresses for her family and friends. After years of practice, she has turned what she once did for fun into a small business.

The defender now sews apparel for her club in her small shop at Sowutuom in Accra.

Speaking to SuperSports, Selina said she charges her club, friends and families for her works, depending on the sizes they prefer. (meaning)
According to Selina, 21, she trains with teammates in the morning and right after each session, she goes back to her shop to do the other jobs she loves and devotes her remaining strength to produce the best for her customers.

Though it has been tough, Selina credits her coaches and other teammates for the support they give to her, knowing her situation as a football, dressmaker and a mother as well.

Like any other footballer, Selina says she feels elated whenever she is on and off the field as her works are being patronized by the club and others.

Selina aims to represent Ghana on the global stage, she works each day to reach that goal.
Watch the video below:


Selina Kwaeuniwa is dedicated to football as much as the vocational trade she relies on for bread and butter.

Now with Women's Premier League side Jonina Ladies Football Academy, she is living both dreams.

Spoke to her about love for sewing and Football. pic.twitter.com/vxs8Cmi8Bv

— Juliet Bawuah (@julietbawuah) September 29, 2023
Ghana's leading digital news platform, GhanaWeb, in conjunction with the Korle-Bu Teaching Hospital, is embarking on an aggressive campaign which is geared towards ensuring that parliament passes comprehensive legislation to guide organ harvesting, organ donation, and organ transplantation in the country.

Click here to start the nomination process for the 2023 GhanaWeb Excellence Awards



LSN/KPE