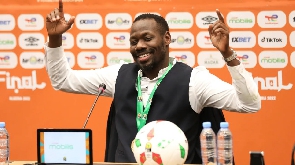 Senegal coach Pape Thiaw is in cloud nine after his team lifted the TotalEnergies African Nations Championship (CHAN) 2022 on Saturday in Algiers.
The Local Teranga Lions edged hosts Algeria 5-4 on penalties following a goalless draw after extra time in a very highly contested final at the Nelson Mandela Stadium.

The former Senegalese international who turned 42 on Sunday was in celebratory mood at the timely birthday present that has seen him inspire Senegal to their first ever CHAN trophy in their third appearance.

"I thank God and praise be to God. We were crowned with the CHAN title on February 4 and we will celebrate it on February 6 in Senegal with our fans.

"I dedicate this title to a person very dear to me, Joseph Koto, the former coach of this team who passed away. This was his wish," the emotional Thiaw told the media in the post-match press conference.

"Our victory in Algeria means that our work succeeded. I thank Algeria for welcoming us, and I thank the coach of the Algerian national team [Madjid] Bougherra who did a good job and has previously won the FIFA Arab Cup.
"We have a young team that knows how to run matches. Its strength is in teamwork and when we played against Algeria that did not concede any goal, we were ready to suffer in order to make our country happy. I will not get a better gift for my birthday.

"I did not doubt that we would not win. Not even for a single moment and I remained calm. Our players received messages of encouragement from our people and the Senegalese authorities.

"These young men wanted to raise the level of football. We are a country that exports its players abroad in abundance, and that is why we do not keep players with our local team."

Thiaw, who represented Senegal in the iconic Teranga Lions that went on to reach the quarterfinals of the World Cup in 2022 in South Korea and Japan, has won a trophy at his first major tournament as a coach.

He explained that his team was psychologically ready before the match to play in front of the Algerian fans who created an incredible atmosphere that has the potential to intimidate any side.
"We have people who work with the players from the psychological side, and it is difficult to play against Algeria in the presence of their fans and win over them," he said after the match that saw an impressive 39,120 fans in attendance.

Thiaw praised the Algerian fans and said, "We thank the fans because they did everything in their power to welcome us. The Algerian and Senegalese people are in solidarity, and what I say to them is thanks.

"I congratulate our federation which has invested a lot. We have benefited from many training sessions. We are happy with the result and our victory on penalties in the final."

Senegal are now the reigning Africa Cup of Nations (AFCON), Beach Soccer AFCON and CHAN champions in a historic year that has seen them become the first nation to hold these continental titles at the same time.