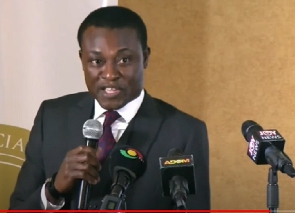 Ghana Integrity Initiative (GII), Ghana's Chapter of Transparency International (TI), has said setting up the Office of the Special Prosecutor is not enough to win the fight against corruption.
GII has called on the government to provide logistics and financial muscle for anti-corruption agencies to effectively fight pervasive corruption in public and private offices.

The Fund Raising Manager for GII, Micheal Boadi said this in an interview on the Kumasi-based OTEC 102.9 FM's morning show Nyansapo on Friday, February 3, 2023.

Mr Boadi believes the enforcement of Laws and mechanisms to halt corrupt practices in the country have been appalling owing to organisational inadequacies, a phenomenon blamed on insufficient budgetary allocation, direct influence of government over appointments of persons to head the institutions.
"It is an acknowledged fact that Ghana's challenge has always been enforcement of the regulatory regime, even where there has been progress in introducing statutory and regulatory interventions, the enforcement of these mechanisms has always been abysmal due to institutional/structural deficits in the anti-corruption enforcement institutions or agencies," he said.

He has therefore urged the government to restrategize in the fight against corruption to make it deterrent for people to engage in the canker.

He added that despite some of the measures put in place to fight corruption the results showed the country still had challenges in dealing with the menace.