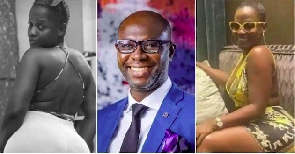 Lawyers of the Kwasi Nimako, (First Defendant) after receiving the written submission file by the former National Service Personnel, Deborah Seyram Adablah, (Plaintiff), applied to the court for leave to file additional process.
But the request was opposed by lawyers of the Plaintiff on February 23, 2023.

Adablah had filed a writ alleging sexual harassment against Ernest Kwesi Nimako, Chief Finance Officer, and the bank.

Ruling on the request on Thursday, April 6, 2023, Justice Olivia Obeng Owusu said there was no requirement that warrants lawyers of Ernest Nimako to seek leave before filing a supplementary affidavit.

The court said the First Defendant, does not require leave and in the circumstances, he was at liberty to file his supplementary affidavit.

Justice Owusu has since directed lawyers of the bank and the plaintiff to submit to the court relevant authorities they have referenced in their respective submissions.

EIB Network's Legal Affairs Correspondent, Murtala Inusah, who was in court reports that, the court will on May 16, 2023 fix a date to rule on whether or not the name of the bank be part of the writ before it.
Plaintiff counsel

On March 23, counsel for the Plaintiff Lawyer Mohammed Atta, while opposing to the request said, though he would not have originally opposed, counsel for the First Defendant had to have file it as of right.

"Ordinarily, I would not have opposed to his application if he straight away filed it as of right," counsel said.

He said, given the situation that he has filed for leave, the practice is that we will have to respond."

Lawyer Atta argued that, "I need to know exactly which parts (paragraphs) he is responding to and they should have attached a proposed affidavit that would have been satisfactory."

He said the First Defendant by not attaching the proposed affidavit and not stating precisely the paragraphs of my affidavits they want to respond to, they have not come properly."
Counsel cited Agboado vs Fianko and another 1995/6 One Ghana Law Report 278, Act 289 to support his argument.

First Defendant's reply

Counsel for the First Defendant, Ama Opoku Amponsah, in her reply said, the Plaintiff's counsel position that "we ought to have filed a supplementary affidavit as of right was not the case, given the court's position in some decided cases especially in relation to Order 25 Application."

While referring to the case of the 'Republic vs High Court Land Division (Alhassan Limited exparte Thaddeus Sory)' reported 2011 SCGLR, she said "the court had taken a view that because there was no express provision in the rule for supplementary affidavits, the proper position is for a party to seek leave before filing such a supplementary affidavit."

Touching on counsel for Plaintiff's position that the First Defendant ought to have attached a proposed supplementary affidavit, Lawyer Ama Oppku Amponsah, said that "is not known to the rules of this court."

"We say so because this is not an application for amendment under order 16 of this court," she stated to buttress her stance.
On the authority cited – Agboado vs Fianko, counsel for the First Defendant said it is an authority in respect of amendment but "in such a situation the rules mandate you to specifically say which particular pages you intended to amend."

"With supplementary affidavit, if we were served with counsel affidavits on the last day we appeared before this court, we could have made an oral application for leave to file our supplementary affidavit and therefore there is no requirement for us to exhibt why we should file," Counsel intimated.

Background

Adablah who is the plaintiff has filed a writ alleging sexual harassment against Ernest Kwesi Nimako, Director of Finance and the bank.

Following the action, the Bank has requested that its name be withdrawn from the lawsuit filed by the former NSS worker.

In that application dated January 24, this year, the Bank requested that seven paragraphs of the writ be dismissed "on the ground that they disclose no reasonable cause of action against the applicant".
It contends that Paragraphs 7,8,9,10,11,31,32,33,34,36

and 37 which were requested to be excluded comprise portions of the writ that accuse the bank of watching on for female workers being harassed sexually by senior male officers of the bank.

The substantive case alleging sexual harassment would be dealt with after this preliminary application.