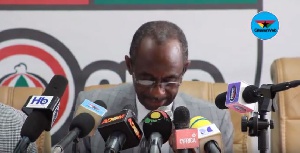 General Secretary of the opposition National Democratic Congress (NDC), Johnson Asiedu Nketiah, has endorsed the Minority's decision to brandish placards with the inscription "bloody widow", during the swearing-in of newly-elected Member of Parliament for Ayawaso West Wuogon, Hon. Lydia Seyram Alhassan, on Tuesday.
According to him, no descriptive tag best fits the newly-elected NPP MP than the one given to her by the Minority in Parliament.

Speaking on Okay FM's 'Ade Akye Abia' Morning Show, the NDC Chief Scribe explained that once Hon. Lydia Alhassan is a beneficiary of the bloody incidents which nearly marred the beauty of the Ayawaso West Wuogon Constituency by-election held last Thursday, she should even be grateful to the Minority for the colourful portrayal.

"I highly commend the Minority in Parliament for the decision to walk out of Parliament during the swearing-in of that woman [Hon. Lydia Alhassan] . . .I pat them on the back . . . there is no better way to describe the woman than to call her a bloody widow; she should be happy that the Minority in Parliament has given her that name," he endorsed.

To Asiedu Nketiah, the newly sworn-in MP is "not a good woman", and should not be entertained in the august House, having soiled her hands with blood.


" . . Lydia Alhassan should have done the honourable thing by backing out of the Ayawaso West Wuogon Constituency contest when the main opposition NDC withdrew from the by-election....only this way would she have been considered a good woman who does not want to soil her hands with blood," the NDC Chief Scribe added.

Hon Lydia Seyram Alhassan was sworn into Parliament Tuesday, by taking the Oaths of Allegiance and Member of Parliament administered by the First Deputy Speaker, Hon Joseph Osei Owusu.

Moments before her swearing-in, however, the Minority in Parliament staged a walkout of Parliament in protest against what they (the Minority) described as state-sponsored violence during last week's by-election.