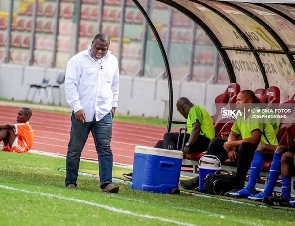 Karela United's head coach, Shaibu Ibrahim Tanko, has praised his team's resilience and dedication following their thrilling 1-1 draw against Kumasi Asante Kotoko.
The Passioners displayed their fighting spirit by recovering from a goal down to secure a valuable point in the encounter.

The game began with an unfortunate setback for Karela United when defender Abdul Rashid Mohammed inadvertently scored an own goal in the 29th minute, giving Kumasi Asante Kotoko the lead.

Despite the early setback, the Aiyinase-based club refused to let their spirits dampen and mounted a determined comeback.

After the halftime break, Karela United relentlessly pressed for an equalizer, and their efforts were rewarded in the 75th minute. Fatawu Mohammed emerged as the hero for Karela, scoring a crucial goal to level the game at 1-1.
Following the match, Coach Shaibu Ibrahim Tanko acknowledged the team's fighting spirit and praised their commitment, although he admitted there were areas where they could have performed better, particularly in defense.

"I believe that today we played a good game," said Coach Shaibu Ibrahim Tanko. "We could have won the game if we had been more clinical in front of goal. However, the boys demonstrated great fighting spirit and commitment when we were trailing."

Despite the draw, Karela United remains in the 16th position in the league standings with 41 points.