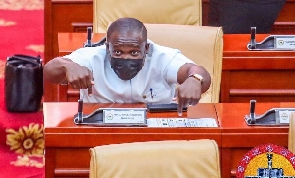 Member of Parliament(MP) for Ningo Prampram, Sam Nartey George says if John Dramani Mahama is not President after the 2024 elections, it will be better to divide the assets of the country and share them among the citizens.
He is of the view that there will be doom should the New Patriotic Party be given the opportunity to lead the country.

Sam George who was speaking on Accra-based Joy Prime said no patriotic Ghanaian will hazard the thought of John Dramani Mahama not becoming President.

"We should share the country among us. You should not say this. If you love this country…Everybody who loves this country should hazard that thought, who Bawumia? Head of Economic Management team to come and run this country," he said.

On who becomes the next flagbearer of the National Democratic Congress (NDC) he said no one in the NDC can beat John Dramani Mahama.
He added that even he as a Member of Parliament will beat John Dramani Mahama's contenders.

The National Democratic Congress (NDC) has opened nominations for persons interested in leading the party in the 2024 election to file their nominations.

The party believes that it stands a high power in taking power from the New Patriotic Party after their shambolic showing in office from 2017 till date.

The opposition has pegged their filing fees at Ghc 500,000; a fee which has been criticized by civil society organizations as being exorbitant.