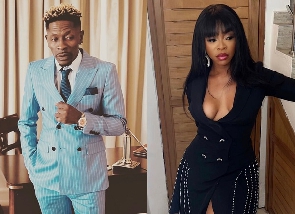 Michelle Gbagonah better known as Shatta Michy has admitted that taking care of all the needs of his son with Shatta Wale doesn't come easy, however, it brings her joy ensuring that little Majesty lacks nothing in life.
The single mother in an interview on Showtym with Andy Dosty alleged that the father of her only child has made no effort in seeing their child.

"When it comes to seeing the boy, you (Shatta) haven't made that effort. I on the other side am taking everything cool. It is one of those things. I am not preventing him. He knows my house and phone numbers, I heard him say that I blocked his calls but my other number is online, everybody knows it..strangers even call me," she said.

Michy who described herself as a hardworking woman was quick to deny rumours of keeping Majesty away from his father following their messy breakup.

The singer-turned-television presenter mentioned that Shatta has failed to engage her in what she termed as "proper and matured communication" when it comes to their son.

"My son hasn't shown any sign of missing his father (Shatta Wale). We don't have discussions and so I can not tell. My son is quite satisfied in life and I don't think he has a reason to look for that, you know. Proper communication is what's stopping him from seeing his son. Matured communication is what he's lacking, there is more to do on that side," Michy opened up to Andy Dosty when asked about the bond between father and son.

Just like many single mothers, assuming the role of a father doesn't come easy but this Ghanaian woman is willing to do everything to secure a brighter future for her child.
"I don't want to fuel his topic but taking care of my child makes me fulfilled in life and so if I have to do it, I will. I thank god, I don't have to beg to feed my child...it doesn't come easy. I have about three streams of income and I am still looking for more. The bills get bigger by the way but I am also trying to devise ways," Michy added.

Watch the latest episode of Nkommo Wo Ho below:





OPD/BB