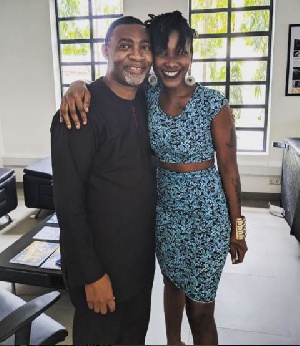 Economist and international evangelist, Dr Lawrence Tetteh has expressed shock over the death of Dancehall artiste Ebony Reigns who passed on in the late hours of Thursday.
The musician died in a motor crash at Bechem in the Brong Ahafo region, police have confirmed. The unfortunate accident occurred late Thursday evening on the Sunyani-Kumasi road.

According to Mankranso police, Ebony and two military officers were on board a Jeep with registration AS 497—16 from Sunyani heading towards Kumasi when it collided head-on with a VIP bus heading towards Sunyani from Kumasi.

In a tweet posted by myjoyonline, the UK-based clergy stated that the 'Maame Hw3' crooner did not "deserve to die in such a manner" while describing her as young, vibrant and hardworking.

Ebony Reigns recently shared a heart-warming picture with Dr Lawrence Tetteh on social media.

The songstress who posted the photo on her Instagram, captioned the photo, "I enjoyed our meeting today Daddy" which could mean Dr Tetteh was her 'Spiritual Father'.
In the photo, both of them can be seen gazing directly at the camera with a gleeful moon-carved smile to show the two individuals are great pals.

Dr Tetteh was however consoled that he "witnessed & prayed with her with a joyous heart".

Read the full tweet below:

"It is shocking & sad that a young, vibrant & hardworking lady like Ebony had to pass in such a manner. She was with me a few days ago & had told me she wanted to come to church. I witnessed & prayed with her with a joyous heart only to hear this. - Dr. Lawrence Tetteh."


It is shocking & sad that a young, vibrant & hardworking lady like Ebony had to pass in such a manner. She was with me a few days ago & had told me she wanted to come to church. I witnessed & prayed with her with a joyous heart only to hear this. - Dr. Lawrence Tetteh.#Joy997FM pic.twitter.com/h69nnCcTep

— Joy 99.7 FM (@Joy997FM) February 9, 2018