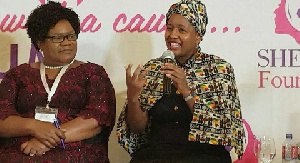 The Chairperson of the Thabo Mbeki African Leadership Institute Alumni Forum was among the key speakers at the just ended Sheroes Forum in Accra.
Lebogang Chaka says she is honored to have celebrated Africa Day with great women from across Africa as the youngest panelist at the Leadership conference.

The South African entrepreneur and educationist joined a powerful panel with H.E former Vice President Joice Mujuru, Senator Jewel Taylor, Hon Gifty Kusi in the Ghanaian capital.

"I know God is ordering my steps...as I looked into my future and re-committed my heart to serving Africa".

The next official appearance for Lebogang Chaka would be on Monday 29th May at the Kanda Cluster of Schools in Accra.
As the special guest for the Books & Boots Foundation, she will be reading passages from selected children's books to the pupils before interacting with them.

Lebogang Chaka would also be interacting with staff and teachers followed by a brief media address and a photo session.

She would appear on Kwesé Free Sports " Home Run" at 8pm on Monday evening to touch on how South Africa successfully adopted education and recreation (school sports) to galvanize the peace and unity vision of post-apartheid South Africa set out by Nelson Mandela.

Partners for Books & Boots Foundation include Thabo Mbeki African Leadership Institute Alumni Forum, Meet the Professionals, One Ghana, Active Minds Reading Club and Kwesé Free Sports.