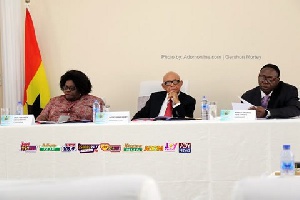 The Commission of Inquiry set up by President Nana Addo Dankwa Akufo-Addo to probe the Ayawaso West Wuogon by-election shooting incident is set to visit the violence scene on Friday, 1 March 2019.
A statement from the Commission said the visit is to "to apprise and furnish the Commission with corroborative evidence or otherwise relative to the testimonies given before it."

"The proceedings will be held on Friday, 1 March 2019, at 10.00am at the Ayawaso West Wuogon constituency, La Bawaleshie Presby Basic 1 Cluster of Schools (East Legon)," the statement added.

The three-member commission led by Justice Emile Short was formed after violence marred the Ayawaso West Wuogon by-election on 31 January 2019.

Some operatives of the national security fired multiple gunshots into a crowd that had gathered at the private residence Mr Delali Brempong, the NDC parliamentary candidate.

The masked men also beat up unarmed civilians and assaulted Mr Sam George, a member of parliament for Ningo Prampram in the melee.
Mr Brempong giving his testimony before the commission said there are evidence of bullet holes on a tree, a wall and a container close to his house.

The Chairperson of the Electoral Commission, Mrs Jean Mensa, Minister of State in charge of National Security, Byran Acheampong, East Legon District Police Commander; National Security Minister, Kan Dapaah; Minister of Interior, Ambrose Dery, Member of Parliament for Ningo Prampram, Sam George among others, have already appeared before the commission.

Below is the full statement from the commission:



Office of the Secretary
Ayawaso West Wuogon Commission of Inquiry

Osu Castle

PRESS RELEASE

Wednesday 27th February 2019

Pursuant to its mandate and instrument of establishment contained under CI 111, the Ayawaso West Wuogon Commission of Inquiry will be conducting a locus visit to inspect and fully examine the scene of the impugned events and environment surrounding the conduct of the by-election on the 31st day of January, 2019.
This is a fact finding exercise designed to apprise and furnish the Commission with corroborative evidence or otherwise relative to the testimonies given before it.

The press are duly welcome to cover the process.

The proceedings will be held on Friday 1st March 2019, at 10.00am at the Ayawaso West Wuogon constituency, La Bawaleshie Presby Basic 1 Cluster of Schools (East Legon)

Please note, press accreditation will commence from 0930hrs so do endeavour to be promptly represented.

Katherine Woode
Public Relations Officer

Ayawaso West Wuogon Commission of Inquiry

Christianborg Castle Osu