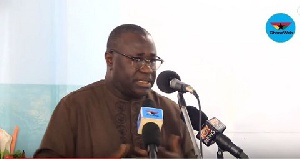 Security Analyst, Dr. Emmanuel Kwesi Aning has called for the sacking of the minister in charge of national security at the Presidency Bryan Acheampong.
This followed the recommendation by the Justice Emile Short Commission for him to be sanctioned for unleashing masked security operatives to police the Ayawaso West Wuogon by-election.

Six people were shot at the Bawaleshie Polling Centre of the constituency, compelling the opposition National Democratic Congress (NDC) to withdraw from the exercise citing safety concerns.

Voters were electing a new Member of Parliament (MP) for the area in the by-election necessitated by the demise of the incumbent Emmanuel Kyeremanteng Agyarko last year, representing the governing New Patriotic Party (NPP).

The by-election was won by Lydia Seyran Alhassan, a spouse of the late MP on the ticket of the governing NPP, collecting over 60% of the total valid votes cast.

The confidential report in possession of Starrfm.com.gh said Mr. Acheampong must take "ultimate responsibility" for the operation which resulted in the shooting.
"The Commission recommends that Mr. Bryan Acheampong be reprimanded for his ultimate responsibility as Minister in authorizing an operation of that character and on a day of an election in a built-up area," the report presented to President Akufo-Addo said.

The Committee has also recommended to the President to clarify the exact role of Mr. Acheampong.

Commenting on the commission's report on Starr Today Friday Mr Aning rejected the recommendation as lenient, calling for him to be shown the exit.

"If there's true desire to look at the Ayawaso crisis holistically, then certainly Bryan should not only be reprimanded but I think in terms of the severity of the actions of the men that he ordered to brutalise Ghanaians he should resign or he should be sacked," Dr. Aning who is also the Director, Faculty of Academic Affairs and Research at the Kofi Annan International Peacekeeping Training Centre (KAIPTC) said.