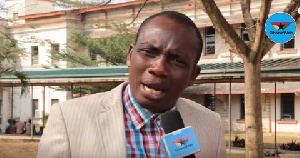 Controversial Ghanaian marriage Counsellor, Cyril George Carstensen Lutterodt has advised women who are poor and unable to afford the services of breast and buttocks enhancement not to condemn people who have done such surgeries to call for attention.
He said there is nothing wrong for people to enhance their breasts and inject their buttocks just to look attractive for men.

Counsellor Lutterodt wondered why the public always tongue-lash people who have enhanced their buttocks and breasts because they don't have the means to do same.

He further entreated ugly women who have money to also enhance their beauty advising women to look presentable by enjoying men's wealth and pay for the consequences later in their lives.

'When you see any woman who has spent money to enhance her breast or injected her buttocks to make it look attractive, the only reason why that was done was for the appreciation of men, if you are poor you can't pay for that service, shut up, same way if you are also ugly and you know you are ugly not because you have inner beauty but you are ugly, and you have money to do it, don't condemn those who have done it, go and pay, enhance so that you can call for attention,' he advised.
He advised women not to lose themselves for anything trousers but rather be vigilante and date rich men who are ready to afford their expenses.

'Women are very important in society and God knows why he brought the last thing call women to men. Women enjoy the wealth and riches of men, don't lose yourself for anything, look beautiful, presentable, catchy, and remember this life you are living, the only permanent thing in life is death, the second permanent thing is poverty, use what you have to get what you want and pay for the consequences later,' he stated.

Ghanaian celebrities have come under public scrutiny after names of some celebrities who have visited Dr Obengfo clinic for various kinds of surgeries popped up in 2018.